Category Archives:
Food Conveyors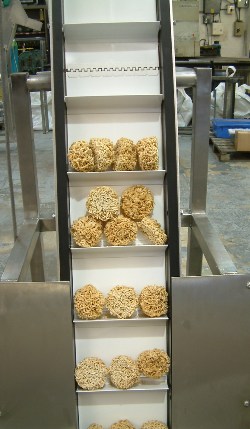 C-Trak providing conveyors for the food industry this is a photo shows products being elevated with flights on an incline
I thought I would kick off are first news blog on our main product which are food conveyors.
What is so different about C-Trak food conveyor specifications?
Hygiene is one of the most important factors for a food factory with cleanliness being the "C" word.
C-Trak food conveyors are fabricated in stainless steel with food grade belting.
Providing conveyors to have the easy wash down which is imperative in a food factory.
C-Trak Ltd conveyors can withstand hot and cold temperatures wet and dry application depending on your product.
Why not give us a call on 01525 850316 and let one of our experienced sales engineers do the work for you. Assess your food handling production line and advice you on the best possible solution saving you on labour costs and human error.
Don't waste time let us help you with all your food conveyor handling click here for more information