Stainless Steel Conveyors UK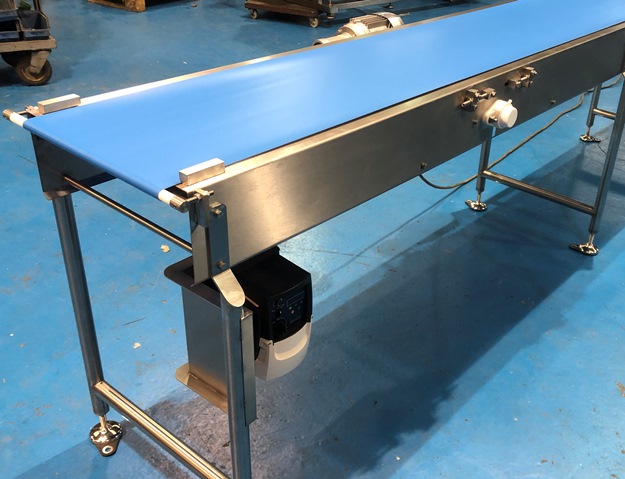 Why use Stainless Steel Conveyors?
Stainless is predominately used when handling Food or Pharmaceutical products that are loose and could come in contact with the belt or framework. They are low maintenance and tolerate harsh environments.
How Much do Stainless Steel Conveyors Cost?
The cost of the conveyor will depend on the application belt type and size but in general they are more expensive than aluminium or mild steel however they will stand the test of time and pass food approved materials for handling raw products.
Video Clips of our Stainless Steel Production Lines
C-Trak Design and Build Custom Built Stainless Steel Conveyors to order manufactured in our UK premises in Bedfordshire. Our prices are very competitive and supplied with full warranty.
What Industries use S/S Conveyors
Predominately the food and pharma industry however more and more often stainless steel is used as the first choice as it is hardwearing and resistant to many harsh chemicals.
Food Sector - including meat, poultry, vegetable, fruit, cheese, confectionery, loose products, dairy, bakery, salad and ready meal
Pharmaceutical and Hospital environments
Personal Care Sector
Drinks and Processing and Canning Lines
Products are available with side guides and controls with stainless steel being used where ever possible including the bearings and drive components making it extremely corrosion resistant.
What the Benefits using Stainless Steel
Low maintenance
Power wash down at end of production day
Tolerate harsh environments
Cost effective
Belts can be food grade PU belting. Modular/Plastic belt or Slats depending on the product. High and low temperatures can easily be achieved.
Optional Extras
Control can be as simple as Start /Stop to a full PLC control.
C-Trak's Stainless Steel Conveyors are built to last and due to the high quality materials used will out live traditional belt conveyors.
Bespoke to order making them efficient and practical for your unique requirements.
Our conveying equipment can be made mobile by supplying castors to leg assembly. Size of castors will depend on weight being carried, supplied in swivel or fixed read more here >>
Brakes can be added to ensure stability.
ROTARY TABLES FLIGHTED AND INCLINES