Updated 14-apr-21
What type of Belt Conveyor should I use for my production line and why?
Belt Conveyors UK Fabricated in Stainless Steel
C-Trak offer purpose built Belt Conveyors and System with a no quibble 24 Month guarantee; Bespoke with your products in mind. Includes our Budget range of Aluminium Conveyors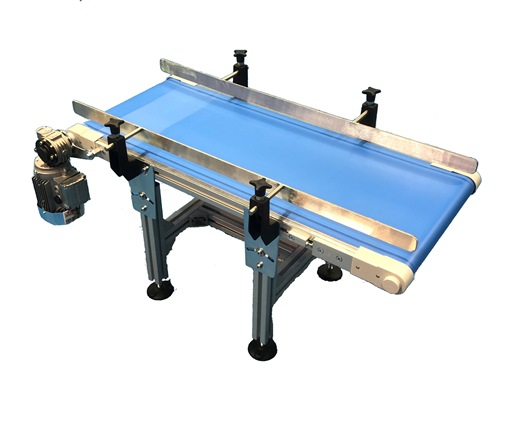 All the help you need to buy Belt Conveyors in the UK
Whether you are looking for a traditional flat belt or flighted option C-Trak are here to help you every step of the way with our experienced technical sales team with impartial advice. If you are not sure which type of belting will be best for your products call us to help you.
Mini Belt Range Food Quality Flighted Belts
Transfer System Warehousing Sticky Grip Belts
Side Grip Belt Modular Plastic Belt Slat Chain Belting
Stainless Steel Belt Conveyors are often used in the Food and Pharmaceutical Sector but are equally suitable for more robust environment. Ideal when products have varying dimensions or an incline is needed.
Types of Belt Conveyor Systems available in the UK Market
Options
Stainless Steel - Food & Pharmaceutical grade for hygiene sector
Aluminium - Light to Medium weight products that do not need to meet the standards of hygiene that is required in the food and personal care sector.
Mild Steel - For more robust application such as warehousing and industrial plants.
C-Trak offer versatility and are here to assist with your complex applications and are happy to supply one off belt conveyor to a fully automated conveyor system.
Belting Types
Belting type can also be specified to suit your application.
p/u
grip face
modular plastic
flighted
corrugated
rubber
slat
C-Trak can integrate our equipment into your existing system with minimum disruption to your production.
C-Trak Belt Conveyors Video
Conveyor Belt Specification
Lengths 600 millimeters to 40 meters on a single motor.
Supplying widths in increments of 50mm from 100mm to 1000mm
All of our Conveyors are built to British Standards of Health and Safety and come with a full guarantee for your peace of mind so be assured C-Trak will not let you down.
Why not go Mobile with our Portable option
All of C-Trak's range of conveyors can be made mobile by adding castors to the leg assembly. Size of casters will depend on weight being carried, we can supply the castors in swivel or fixed. Brakes can be added to ensure that the conveyor stays fixed in position. Please take a look at our Portable Conveyor page.
F A Q
1. Do the Belts Stretch?
Yes they do after the conveyors have been running for a while and bedded in the belts will need to be re-tensioned. Sometimes a belt can stretch as much as 10% of the original length.
2. Do C-Trak fit side walls to there belts?
Yes we can; sizes start at 20mm high. Diameter of drums will be affected by this.
3. What sizes are your belts?
We can provide in any width required but our standard range start at 100mm up to 800mm. We have in the past supplied widths of 2 metres.
4. Can you provide a food quality belt conveyor systems?
Yes belts are food grade and the frame is made from stainless steel. Take a look at our Food Handling range.
5. Do you supply flights to your belt elevators?
Yes flights can be added sizes start from 20mm to 150mm and pitched at required distance.
6. How do I stop the belts tracking off?
Belts come off track for many reasons please check the following:-
Is the framework on a square level?
Have the drums been crowned, this helps the belt position itself?
The end , tension and drive drums should all be square to each other.
7. Do you replace belts?
It is easy to replace a belts you can either repair a belt by joining it using a method called vulcanising. Or a new endless length of belts can be fitted.
8. Conveyor belts can stick after a hose down and burn out the motor can this be avoided?
A quick release unit can be fitted which will take the tension off of the belts. Tracking and tension will stay the same.
9. Can I get close transfer between my conveyors?
This can be achieved by using 50mm dia end drums. Tensioning of the belts is done mid conveyor ensuring it remains the same no matter how much the belt stretches. Our Transfer Conveyor page will give you more information click here
10. Can I run an belt conveyor system at an angle?
An angle of approx 40 degrees can be achieved without using flights. But this all depends on your product being conveyed. Take a look at our Elevator Conveyors for more information by clicking here.
11. Is it ok to transport raw food on belt conveyors?
Almost any product can be handled providing the correct belt is selected.
12. What is the smallest transfer gap?
C-Trak provide a Mini Range of conveyors for light duty applications and use a 32mm dia drum please go to our page on small conveyors.
Alternatively you can travel around a knife edge to give a gap of 4mm.
13. What speed can a belt conveyor run at?
Typically 2 metres per minute to 50 metres per minute. However this depends on your product.
14. Can the speed be varied?
This is achieved by adding an inverter or a mechanical variator.
15. Does a belt conveyor accumulate?
Yes it can be done using low friction to an extremely high grip. Again this depends on your product.
16. Can belt conveyors be portable?
All of C-Trak's Conveyors are made portable by adding castors to leg assembly please go to out dedicated page on mobile options >>