Updated 19-jan-22
Rotary Tables are In Stock Now
Rotary Tables & Packing Stations in Stainless Steel with End of Line
How to use Rotary Tables to increase productivity with the most cost effective way of discharging and loading products for your picking and packing production line conveyors. Our tables are one of the safest on the market as all boxed in and ce marked.
All our products come with a 24mth Warranty
Click to Call Tel: 01525 850316
Bottle Unscrambler & Discharger Tables UK Manufactured
Our Rotary Turntables are fabricated in s/s making it suitable for the food, beverage, chemical clean rooms and pharmaceutical industry.
WE HAVE A 1.2 METRE DIA TABLE IN STOCK CALL NOW TO RESERVE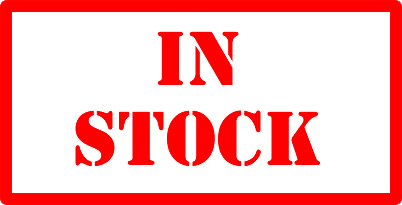 What sizes we offer? -Table top diameters are supplied as standard in;
900mm
1000mm
1200mm
1500mm
Other size can be offered at additional cost.
What gauge size is used? - 10 gauge stainless steel is used on our tables. The sides are supplied diamond creased for strength and appearance. Frame work stainless steel box section
We now offer a new product where we uses aluminium profile instead of 10 gauge stainless steel this cuts down the cost to our customers. It is still boxed in with stainless steel.
This unloading rotary table was designed and fabricated for a honey manufacturer packed and moved in glass jars.
Are Guide rails included in the price? - Yes guide rails are supplied as standard
Stop Start Buttons are supplied as standard on all our rotary packing tables.
C Trak Rotary Packing Table Photos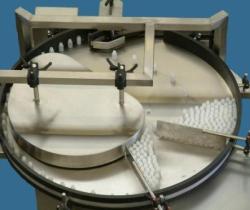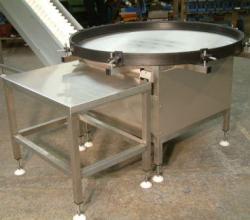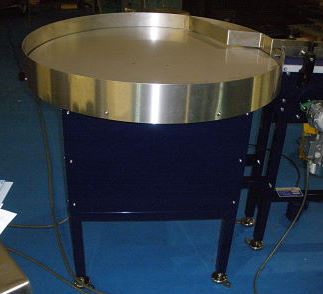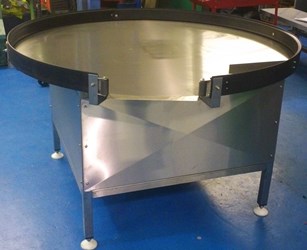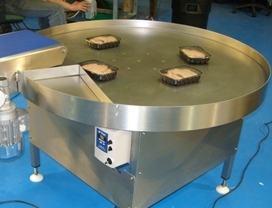 Optional Extras
Deflector arm
Overhead discharge deflector arms
Variable speed inverter
castors offering a mobile solution
All Rotary Tables are fitted with a fixed speed 4.7 rpm gearbox as standard. Special speeds can be offered at no extra cost.
Our table tops run true to 1.5mm in deflection. This therefore ensures a very close transfer from or to the feeding conveyor.
How to transfer products onto a Rotary Table
Video on the left
One of many ways to load products onto a lazy susan is to use a side belt conveyor.
This application shows a side grip belt to transfer and lower plastic cosmetic bottles onto the rotary table. Side Belts are adjustable to suit different size products. It also allows inkjet coding as the grip belt is bottomless.
Video on the right
This application is a manual pusher on a loading table which is easily pushed to swipe the products onto the table.
Packing Tables & Packing Stations for Conveyor Lines
All Stainless Construction bespoke Packing Tables and Packing Stations to suite customers specification. Allowing multi product packing at the same time thus enabling a number of tasks to be done in a small area. Contact C Trak for a quotation for your specific need.
Additional Information on our Tables
1. What speed can I run my table at?
This will depend on the product you have but usual speeds are 4.7 revs per min to 15 revs per min.
2. Can I use your rotary turntable with food products?
Yes our rotary tables are made of stainless or plastic and can be used in the food industry.
3. What sizes are C Trak's tables?
1m, 1.2m, 1.5m are our standards but you can have it made to any size on request.
4. Can I move my product from one rotary table to another?
Yes close transfer can be achieved at approximate 2-3mm.
5. Is accumulation possible?
It is achievable on a turn table.
6. How thick is the table top?
This depends on if you order stainless steel (3mm) or plastic table top. (25mm)
7. Does the table top run true?
yes + or - 0.75mm
8. If my table top become worn or damaged can I replace it?
A new table top can be fitted with ease.
9. Is the speed variable on your rotary tables?
Yes this is achieved by adding an invertor or mechanical variator.