Powered Roller Conveyor Systems
C-Trak offer both lineshaft & chain driven rollers both are a popular choice and have advantages and disadvantages. This also includes 24V Zoned Powered Rollers.
What's the difference between Line Shaft and Chain Driven Rollers?
Lineshaft Powered Roller Conveyors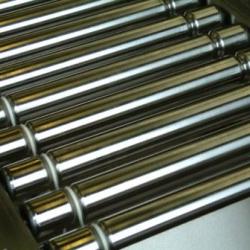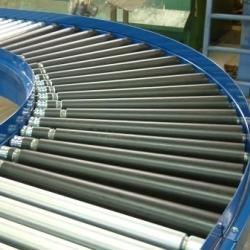 The above rollers are driven by plastic spools and have direct drive. They easily accommodate bends and have low maintenance making them a versatile solution for many applications.
C-Trak Power Rollers are offered for light duty applications as well as the more heavy duty industry. Suitable for wet or dry conditions hot or cold temperatures.
Extremely cost effective and versatile if the correct rollers are selected.
Chain Driven Rollers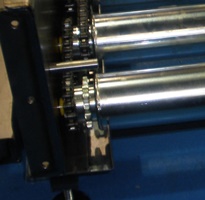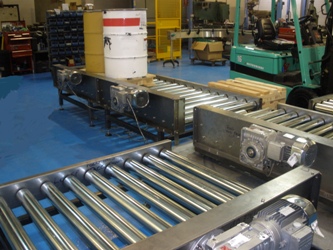 This type of chain roller is ideal for heavy loads such as pallet handling not suitable for small products as they can get trapped between rollers. Ideally goods should be flat base. Not suitable for accommodating corners; to change direction of flow you would need our turn tables.
Zoned Power Roller Conveyors 24V
Gravity Roller
If power was not required you would need a gravity rollers which is driven by gravity alone. Please view our Gravity Roller Conveyors >>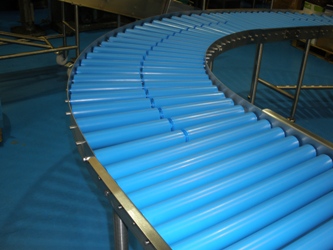 More Information on our Rollers
Roller Conveyors are very flexible and can be used when products need transporting around curves. A slight incline can be accommodated.
Many products can be moved by rollers but it is more suitable for larger items of a reasonable weight. Smaller or loose items are more suited to belt conveyors or modular belt conveyors as they could interfere with the roller action.
Our Standard Range at C-Trak
Our Standards comprises of a 50mm dia rollers set at 80mm pitch. From 200mm - 800mm face width rollers in 50mm increments.
Offering bend and merge unit chain cross transfers and access gates all from our standard range.
We provide a full range of powered roller conveyors from single units to fully integrated systems. Very small packages can be transported on our light duty range. Some uses of our conveyor powered rollers are:-
Bends
Product Stopper
Cross Transfers
Product Alignment
Diverts
Mergers
Rotary turntables

Access Gates or Bridges
Special solutions can be designed including access gates for easy movement around other machinery / conveyors.
Why use C-Trak for your Powered Rollers
Over the years we have been involved with providing companies with first class solutions for there material handling. Our customers come back to us time and time again for help and advice with many repeat orders as we take the time to assess each and every job we do making sure all options are considered before recommending a solution.
We can supply a simple one off stand alone conveyor to a Multi-Functional Automated Conveyor System. Manufactured in Stainless Steel or Painted Mild Steel.
Your project would be managed from the first phone call to the final commissioning of your conveyor and installation would be done at a convenient time to suit you and with the minimum of down time to your production.
All of our products are built using only the best products to help eliminate constant break down and failure of production. We aim to keep our customers happy and have a competent and friendly customer service not only on your initial order but for years to come.
Please call one of our sales team with over 30 years of conveyor experience to help with a solution to your conveyor needs.