Inclined Food Grade Elevator Conveyors
C-Trak's offer a range of Incline Conveyors fabricated in Stainless Steel supplied with flights or grip faced belts to accommodate ascending and descending slopes of up to 80 degrees. Suitable for the food, pharmaceutical and clean room environments.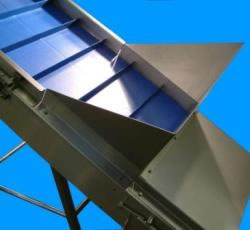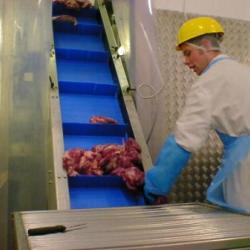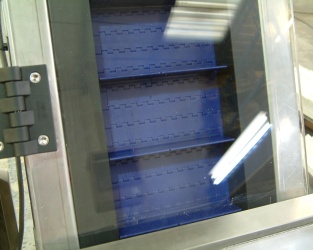 We also offer Painted Mild Steel Conveyors for the more industrial industries
Optional Hopper & Discharge Chutes for Conveyors
Hopper and Discharge chutes are Bespoke to customer's individual specifications.
Video clips of our Elevator Conveyors
Tell me more
C-Trak can deliver a custom made elevator with angles of up to 80°. Flights can be created at various pitches dependant upon products and adjustable speeds applied. We offer side skirts if required to keep product inside the conveyor belt.
Providing widths from 100 mm to 1m.
Chutes and Hoppers are also available
Supplied in PU Belt :: Plastic Modular Belt :: Grippy Belt :: Rubber Insert Belts
Temperatures can be achieved for low and high ratings which is imperative for the food industry where raw products and bottling is required.
Benifits
All of our product come with a full warrantee, delivered on time to an affordable budget.
We pride ourselves on being a professional conveyor company that recommend solutions to increase your productivity.
Under guards are supplied as standard and comply with FDA regs.
Optional extras include top covers, variable speeds, central tracking and grooved belts.
Inclines can be achieved of up to 45° without flights dependant on size and weight of your products.
C-Trak Conveying Equipment at it's best