Product Transfer On & Off Conveyors in Stainless
One of the most frequently asked questions is how can I transfer product to other machinery using conveyors. C-Trak design and fabricate transfer systems that will address the common problems associated with product transferal.
Click to Call Tel: 01525 850316
What types of transfer do we offer?
90 Degree Transfer Conveyors and Close Transfer Straights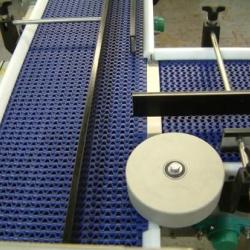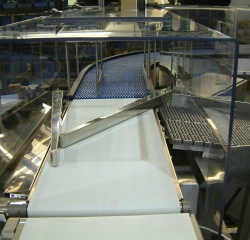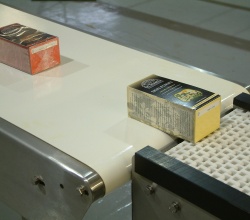 What's the best conveyor to use to transfer my products - many factors will dictate which application will be best for your products: size, weight and transfer gap.
Products can be transferred using some of the following conveyors.
Powered Roller
Flat Belt
Modular Plastic Belting
Pallet
Slat
Rotary Packing Tables
Side Grip Belts
Side Grip Transfers
More Options for directing your products
You many need more than a transfer system in place and C-Trak are able to offer a range of products including.
Accumulator Conveyors - Ideal for delaying or temporary holding products, multiple lane options, diverting products; for more information visit our product accumulator page
Converger Systems - This type of system aids the merging of products into multiple lanes or vice versa read more....
Turners and Twist Box - often used in the canning and bottling sector learn more about turning products by clicking here
Why use Us
We have a proven track record of successful manufacture of conveyors and have been fabricating sine 1979. All of our products ar supplied with a full guarantee. We offer a friendly personal service and deliver our products on time.
Food Quality Pusher Transferals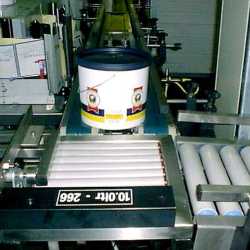 The above application shows a 90° transfer device; it drives to the pusher area which is sensed by the air cylinder that pushes the product at 90° to the normal flow.
Transfer Plates
This is showing a dead plate which is adjustable in and out and around a fixed pivot point this ensures that finger nip points are kept to a minimum.
Chain Cross Transferals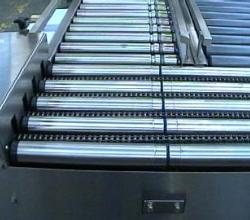 Transfers a product at 90 degrees to the normal flow. The product is sensed automatically and the chains raises to discharge the product either as a reject or to feed another machine in the factory.
Slat Transfers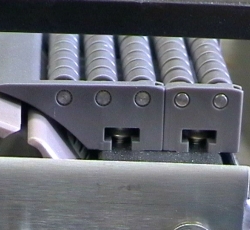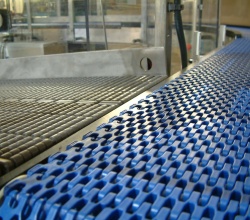 A series of 12mm dia wheels are set within a radiused profile, these units can be ganged together to almost any length and width.
Right Angle Transfers using over head Scoop Flights