Modular Belt Conveyor Systems in Stainless Steel
Supplying the ultimate conveyor systems made to measure. Superior quality and technical support you can rely on.
Click to Call Tel: 01525 850316
Sample Video of our Modular Belt Conveyors designed in-house
Let us help you to achieve the best possible solution for your material handling projects with our Modular Plastic Belt Range.
When to use Modular Belt Conveyors?
Widely used in the food and beverage industry as well as being suitable for clean rooms / pharmaceutical applications this is due to the hygienic properties and ease of cleaning.
C-Trak can design, fabricate and install your conveyors for you with a full guarantee.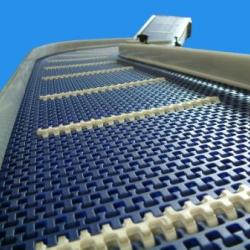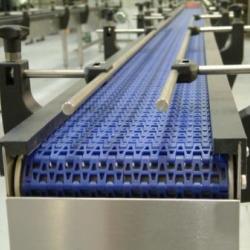 What are the advantages of Modular Belts
One of the great advantage of is they can move your product round bends and corners as well as inclines requiring only one drive unit making it a very cost effective solution.
Modular Belt Conveyors can withstand high or low temperatures (-50° C to 90° C, wet or dry conditions and have no tracking problems. Belts can be removed for maintenance or cleaning with the minimum impact on production shut down time.
They are particularly quiet in operation. Widths from 50mm up to 3 metres wide and lengths from 40mm up to 30 metres can be achieved.
Manufactured in our Leighton Buzzard factory to each clients personal specifications allowing variable options including :-
Adjustable Side guides
Adjustable Height
Fixed or Variable Speed
Flat or Inclined / Decline
Wet or Dry Conditions
Hot or Cold Environment
Swan-Neck Applications
Optional lockable casters for easy repositioning
U Shaped Belt Conveyor
White Modular Belt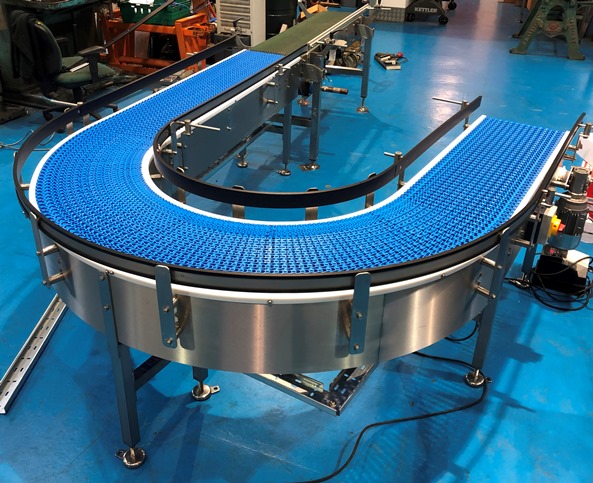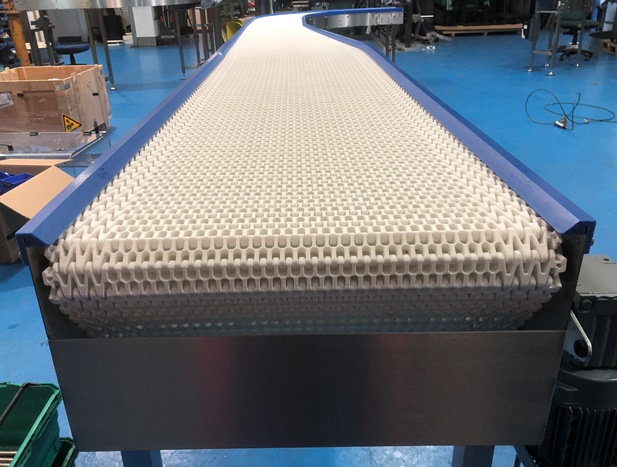 Frequently Asked Questions on Plastic Belting
1. How expensive are they?
They are a little more expensive but should out last a traditional Belt conveyor. much easier to clean and replace than a flat belt.
2. Can modular belt conveyors be run on an incline?
This depend on your product but usually up to 45 degrees can be achieved without flights. Inclines grater than 45 degrees would need to be fitted with rubber flights.
3. Do plastic belts need to be tracked?
There is no need for this type of belt to be tracked.
4. Can the belt be replaced?
It is no problem to replace the belt and can be done in minutes.
5. Is it possible to accumulate on a modular belt conveyor?
Different materials are available from low friction to high grip depending on what your product is. The choice of belt is critical.
6. Is modular belting flat?
It is usually supplied with a mesh type finnish but can be flat.
7. Is it possible to transport raw food on this type of belt?
Most products are ok on modular belt but again it is vital to select the correct type of belt. One great advantage is they can be cleaned easily.
8. What size modular belt conveyors do you supply?
Our standard range is 100mm wide to 800mm wide but any width can be made.
9. Can flights be fitted?
Flights can be fitted from 20mm to 150mm and can be pitched at any distance.
10. Can a plastic belt conveyor go round corners?
Yes this is easily achievable.
11. Can modular belt conveyors go up an incline and a corner at the same time?
You can not fit flights to a radiused modular belt conveyor but rubber inserts can be fitted.
12. Do they stretch?
Once bedded in the belt will need to be re tensioned it can stretch as much as 10%.
13. Can use a variable speed on this conveyor?
Typically it would be 1 metres per min to 100 metres per min. This will depend what your product is.
14. Can I get close transfer from one belt to another?
C-Trak use 50mm dia end drums fixed in the centers of the conveyor so close transfer can be achieved. We also supply 20mm dia fixed nose.
15. Is it possible to fit side guides?
They start at 40mm high.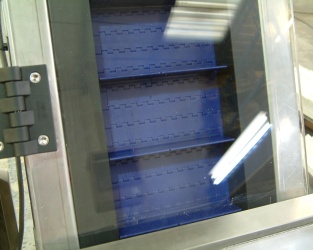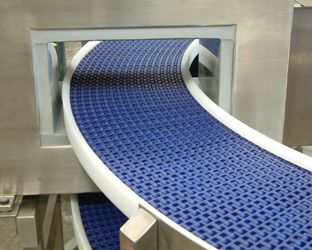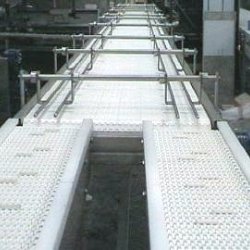 For complete modular belt conveyor systems fabricated in stainless steel please visit our bespoke conveyor designs page >>
Designs from C-Trak Ltd our Modular Belt Conveyor