Wide Belt Conveyor for food handling products - Case Study
Clients brief was to replace an exiting Belt Conveyor with a new Extra Wide Belt Conveyor.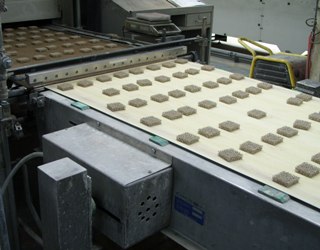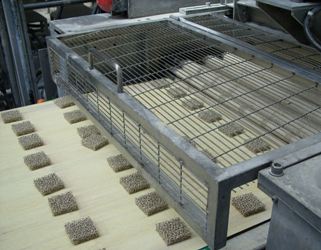 Brief Specification

Conveyor Type
800mm Wide Conveyor Belt
Environment
Stainless Steel for a Wet operation
Throughput
Very slow 0-1 metres per minute
Quantity Conveyors
One
Special Features of C-Trak Wide Belt
The conveyor had to have knife edge transfers; this was achieved by using a fixed bull nose to prevent deflection across a wide belt.
The conveyor had to be able to be lifted through 90 degrees to gain easy access for cleaning and maintenance. This was achieved by putting the pivot point on the drive shaft thus avoiding the need to change tension on the belt.
The product generated a continuous amount of fine wet grit, so a tight fitting scraper just under the discharge was needed.
Clients Requirement:
The Client wanted to fit this themselves; a limited time was available between shifts to do this, so the design of the conveyor had to take into account a number of extraneous existing items including services, guarding floor drains and a tight distance between feed and delivery equipment.
More of C-Trak Wide Lane Systems