Updated 3-aug-22
Food Quality Conveyor Belts
Clients Twin Level Modular Belt Cake Conveyor Line Project
Customers brief was to provide a suitable conveyor to take cakes from a decorating line. The cakes were hand transferred from the line into trays on the new conveyor which would pass them down to a lower level, through a metal detector, labeler and onto a Rotary Table for packing.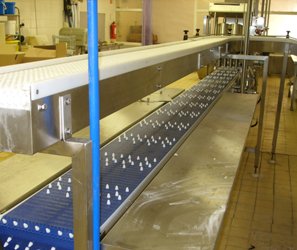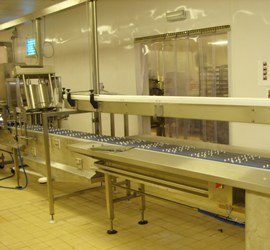 Double Up your Processing with improved out put with our Twin Level Belt Conveyors with Side Table if you are looking for other food application using conveyors please go to our dedicated page of food quality conveying.
Brief Specification

Conveyor Type
200mm wide Plastic Modular Belt
Environment
Stainless Steel equipment for a Food Factory
Throughput
0-25 trays per min
Number of Conveyors
One line with Rotary Table
Basic Control System
Variable Speed Control Unit
Special Features Double Height and Door Access
The Modular Belt Conveyor had to straddle the depositing line without impeding access.
Due to limited space, the decline section of the conveyor had to pass through a door area with two bends ensuring the trays fed the labeller correctly with a space between each tray.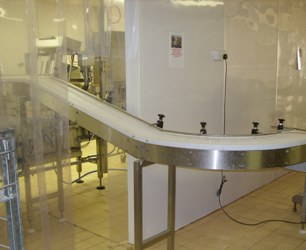 The Client wished to do the installation, so we had to manufacture it in sections which could be put together with the minimum of knowledge.
Clients Requirement:
The Client had just received a large order, so we had a short time to liaise with the Client and other supplier's equipment to meet a tight deadline within a set budget.
Case Study Photo's of Cake handling line using Modular Belt Conveyors
Other Food Belt Conveyors including Bakery