Updated 3-aug-22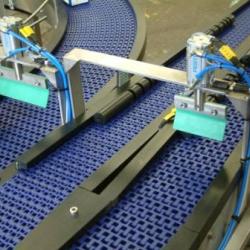 Radiused Conveyor Bend Project a Winning Solution
This case study is for a radiused curved Modular Belt Bend Conveyor for soap bars. If your looking for general information on Curved Conveyors please go to our dedicated page on Bend Conveying Exclusive or watch the video below.
C-Trak Automated Conveyor System for Radius Bends
Our clients specification was to transport bars of soap from a cutting machine though to a sealing unit and then on to a packing station.
Brief Specification

Belt used Type I
Wide Radiused Plastic Belt 200mm
Belt used type II
Pu Belts 800mm Wide
Speeds
110 metres per min
Number of Conveyors
10
Full Control System
1 x Panel
Soap Bar Turning Unit
2 x Air Operated
Clients Brief
Was to supply a
Conveying System
that would transport 2 lanes of soap bars through a slitter and move on to a sealer, then to turn the bars 45 degrees and proceed to conveyor them on to 2 x Packing Stations at a line speed of 100 metres per min.
Conveyor Speeds
Speeds over 100metres per min; this speed was on the limits of what has been achieved before. We therefore affixed Kevlar wear strips to the plastic belt and used a special hardened plastic for wear strips. Conveyors of this type had never been run at the speeds required within the adverse ambient conditions of the factory in question.
Belt Conveyors
The Belt Conveyors were 20 metres long and had a central tracking groove. They were supplied with a quick release device to enable the belt to be replaced quickly. The frame was a canter lever design, which once again enabled the customer to remove and replace the belts within minutes. Read more about are belt conveyor by
clicking here
Soap Bar Turner
The soap bars had to rotate through 45 degrees without being slowed down, they were traveling at 100 m/minute. This was achieved by sensing the product and progressively blowing air through a whisper knife.
Customer Comments!
"C-Trak have been used by us on many occasions and they have always been knowledgeable and efficient, the after sales system is first class. We have no have no doubt about recommending them for a blue chip packaging company."