Last Updated 14-apr-21
How to feed a Checkweigher with a Rotary Table with extended dead plate.
Checkweigher Fed Rotary Table Case Study
Project to manufacture rotary table handling packed powdered products being fed by a check weigh conveyor. To view more information click on our standard rotating tables.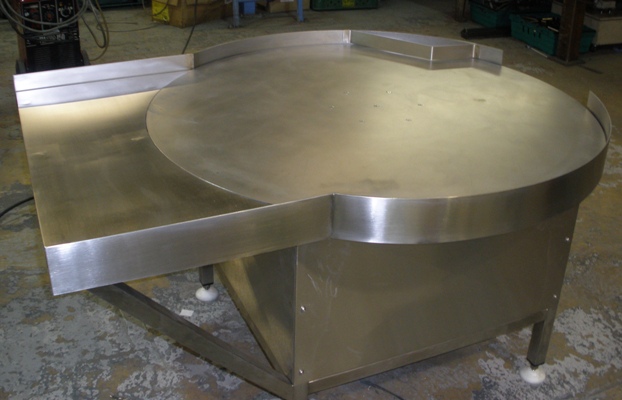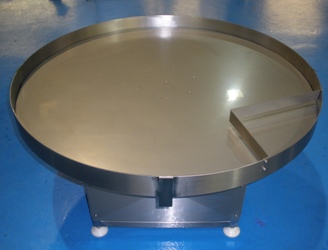 Rotary Turntable Product & Design Details
Design Specification

Product:
Packed powdered products typically 120 x 300mm high; 3kg/pack
Throughput:
10/min
Max Loading:
20 kg
Table Speed:
4.7rpm
Rotary Table Operation
1 off Rotary Table 1250mm diameter x 850mm high supplied with fixed 50mm high circumferential & integral "kick-out" side guides.
There was an extended fixed dead plate shelf required which is 1000mm wide x 300mm at shortest point diametrically opposite to the infeed.
This shelf was supported back to the main frame and the side guiding was extended to along the short edges either side with an open end for operators to remove product.
The unit as a whole was mounted on a box section frame, and has a fully enclosed, support framework with adjustable feet +50mm.
General construction is grade 304 Stainless Steel and food quality materials where ever possible.
A shaft mounted geared motor drive supplied with a stop/start/isolator control was included for this project.
C-Trak End of Conveyor Line Rotary Tables