Case Studies

Last Updated 16-may-12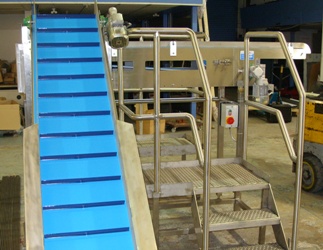 Case Study ~ Mushroom Conveyor
A large independent grower and supplier of mushrooms has come to C-Trak Ltd and asked us to provide a feed and inspection system as an add on to their existing production line.
This food conveyor was needed to improve efficiency, waste and quality control for their Customers.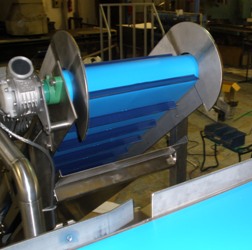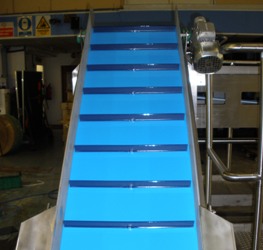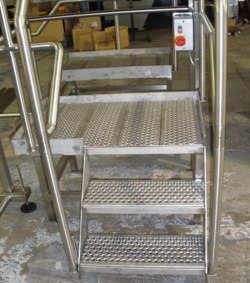 The Mushroom Conveyor Equipment comprised of:
A Food Belt Conveyor inclined at 40 degrees with an integral fixed infeed hopper & side guides throughout. Mushrooms in trays 600mm x 400mm are placed onto the infeed area of the conveyor.
The belt has flights and delivers the mushrooms up and onto the inspection conveyor. There are raised local side guides at this point to direct and control the feed onto the inspection conveyor.
The feed side is cut away to make the inclined conveyor as low as relatively possible. An underguard protection was included.
The Inspection Belt Conveyor is horizontal and has integral fixed low level side guides. The discharge end has a reduced side section to clear the existing vibrating conveyor and side mounted vibrator motor to feed onto the existing main line.
The inspection conveyor is at a relatively high level and we provided an integral platform either side with a raised, non-slip perforated grating base, steps & handrail to suit. The grating was designed to be easily lifted out for cleaning.
The conveyors and platforms were mounted on a box section framework with adjustable feet, and general construction is grade 304 st st and food quality materials.
Shaft mounted fixed speed geared motor drives & locally mounted stop/start/control units were included.
The general design of both conveyors was for IP55 cleaning and included side apertures for hose through access.
This was the second food conveyor system C-Trak Ltd had supplied to this Customer in the last six months which proves continual satisfaction.
Food Elevator Conveyor Photos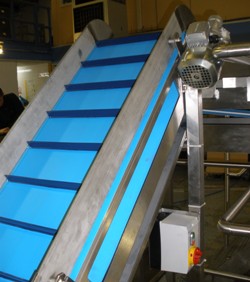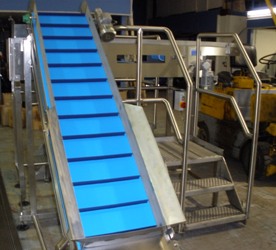 C-Trak food conveyor elevator transporting mushrooms