Last Updated 25-oct-23
Hanging on in there with Roof Conveying Systems ....
Belt Conveyor Project with Metal Dection Unit Case Study 2
Our second case study was for Modular Plasic Belt Conveyor feeding 4 despatch areas.
Modular Belt Conveyor System with Check Weigher
Client's brief was to transport a bagged product from ground level into the roof. Passing through a metal detection unit and a check weigher.
Once in place at a high level the product was to split in to two lines and then a further two lines prior to lowering in to the despatch area some 60metres away.
For more information on metal detection systems or watch the video below.
Brief Specification

Belts used
Wide Plastic Belt 600mm
Speeds
60 metres per minute
Full Control System
2 x panels
Number of Conveyors
14
Special Features
90 percent of the conveyors were hung from the roof
The first split was a left and right option, and was achieved by using a 1.2m air cylinder, triggered by the product type from either the panel or by a remote switch.
Bags then continued to the next split, this was an up or down conveyor feeding two lines. It was achieved by the conveyor pivoting on its own idler shaft in either an up or down motion; and triggered from the control panel or remotely.
All motors supplied were tropicalised due to the location of the factory. They were all variable in speed by means of panel-mounted invertors.
Clients Requirement:
The client wanted to supply a system that could feed 4 separate dispatch area's from one main line conveyor.
The main conveyor was to be feed by 6 packers. The product was then to pass through a metal detector and check weigher. The conveyor main line then climbs into the roof and splits off into four lanes. The bag size was 800mm x 500mm x 80mm the line speed was 48 bags per minute weighing 30 kg each. The project had to be completed within a 6 week period from order placement and delivered with full Ce marking and documentation.
Customers Comments:
Our Conveyor System was fully tested at C-Trak's premises, delivered on time and without fuss. We found the build quality, to be first class.
Manager from a major UK ingredients company.
more images of metal detection conveyors built-in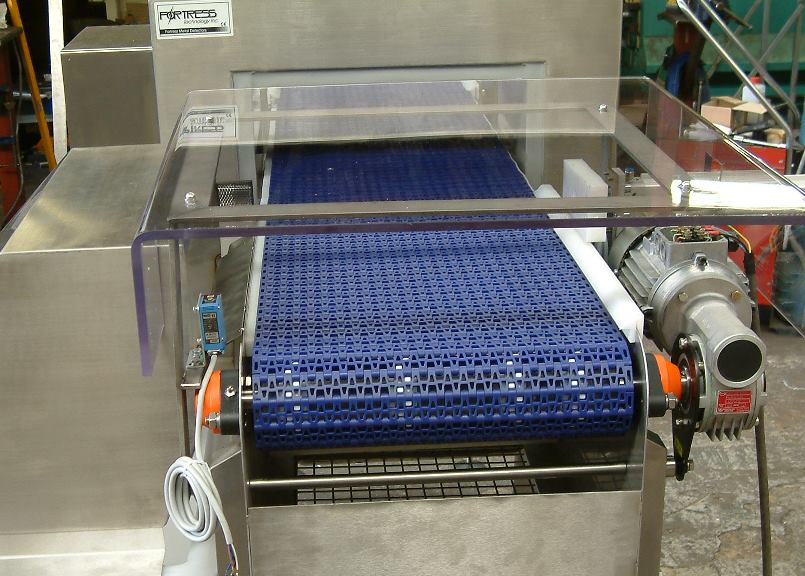 Case Studies by C-Trak